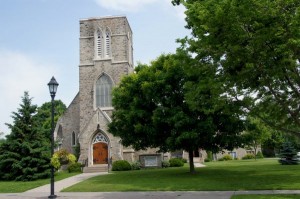 I would like to have a conversation with you. I hope that's alright. I would encourage you to respond as you feel led during this conversation. Answer for yourself, don't worry about trying to answer with a collective voice.
Ok, let's see how this goes.
'Good morning.'
'How are you today?'
'I'm fine, thank you for asking.'
'Lovely weather we are having today, don't you think?'
'Did you watch the Leaf game last night?'
'Me neither.'
'What brought you to church today?'
Six Ways We are the Church – Audio Sermon
Podcast: Play in new window | Download | Embed
Subscribe: RSS
Wonderful, thank you for engaging me I appreciate it. Now, I wonder how did that conversation feel to you?
Do you think that I was genuinely interested in your responses? Were you really interested in what I was saying?
Oh you were! That's wonderful!
Have you ever found that you get engaged in a conversation with someone, but that conversation isn't really going anywhere. There is no depth to the conversation, rather we are simply exchanging pleasantries hoping to get on with our day as soon as possible?
Often it happens because we lead busy lives, we have things to do and places to be!
However, I feel it often happens because we aren't interested in going deep with people. We have developed an insular culture, a private culture. We recognize the vulnerability that can occur when we share on a deeper level with people and that scares us.
One of the things I enjoy about Paul's letters is that they do the opposite of this. They invite you in to a deeper conversation. Think about the opening of his letter in Thessalonians.
When I write a letter or an Email, I write 'Dear Bob' or 'Dear Linda'. Paul writes, "To the church of the Thessalonians in God the Father and the Lord Jesus Christ: Grace and peace to you."
When I read Paul's letter I believe at a very deep level that Paul has something to say. That Paul wants to say it to me and that perhaps I should listen. Paul seems to be going out of his way to express his adoration and admiration for this community of faith. His writing represents a depth of feeling and sincerity that we do not often experience during modern times.
When I read this letter I believe that Paul was writing from a community of care to a community of care. Within this letter we see the deep rooted care that exists for fellow believers, how they are encouraged and nourished in the faith. It provides an example of for all Christian communities in how we might live faithfully to the teachings of Jesus Christ.
Paul gives large praise to this community of faith. When we consider that Paul only spent three weeks with them starting this church it is amazing their deep rooted faith and conviction. Thessalonica was founded by Alexander the Great and he named the city after his sister. It is located in modern day Greece. A strategic port town it stood between Athens in the West and Philippi in the East. Even today the city of Thessaloniki is the second largest city in modern Greece. Now, at the time of Paul it is a thoroughly Roman/Greek city. A city infatuated by the Cult of the Empire, not a place that we might think was fertile ground for a new church to grow having heard the gospel of Jesus Christ. Yet, this church grew to be a dominant voice as the early church grew and developed.
So we already know that Paul, Silas and Timothy wrote to this community with a loving and caring voice. We know from historic records how this church grew and developed. What can this introduction to the church in Thessalonica tell us about this early church. What can this letter, which Paul never intended for us to read, tell us about what it means to be the church?
Thankfulness and Prayer
After the initial greeting we find a strong message of thankfulness and prayer.
"We always thank God for all of you and continually mention you in our prayers."
This is a cornerstone of a strong community of faith. A community which recognizes the gift that we have in one another and is mindful of that gift in prayer. You notice that in encouraging the church Paul is not critical of them. Rather Paul gives thanks for them, for their faith in following the gospel.
What is it that we have to be thankful for? What do we mention in our prayers? During my devotional time I give thanks for this community of faith. I hold you in prayer, encouraged that God through the Holy Spirit is at work in us.
We Look to our Strengths
You have all heard the expression that if you find something you love you will never work a day in your life? I am one of those people. I enjoy the work that I have been called to do here at St. Andrew's. Every day I interact with different people, different groups and I am in awe of the faithfulness of this community of faith. This is a church that works hard, that focuses on its strengths and which appreciates the work that each member contributes.
"We remember before our God and Father your work produced by faith, your labour prompted by love and your endurance inspired by hope in our Lord Jesus Christ."
Stay strong, remain faithful and continue to do the work that is inspired by Jesus. Keep the characteristics of faith, hope and love before you at all times and in all places.
Chosen by God, the Spirit at Work
We are a chosen people. God has known each of us before we were born. Through the power of the Holy Spirit God continually accomplishes his plan for creation through us.
"For we know, brothers and sisters loved by God, that he has chosen you, because our gospel came to you not simply with words but also with power, with the Holy Spirit and deep conviction."
We are chosen by God, we hear God's word and it move us. We experience Jesus Christ and we cannot be the same afterward. The Holy Spirit is at work in this place, in each of us. We value worship, we seek to worship God our Creator, to offer God praise and honour. We want to learn more about God in scripture, we recognize its importance.
The Joy of the Spirit
"…you welcomed the message in the midst of severe suffering with the joy given by the Holy Spirit."
We have all known suffering and hard times. The church in Thessalonica was a beacon of light to the message of Christ. It was persecuted for following in the Way of Christ. We have also known hard times here at St. Andrew's. Though I have only been with you a short time I have heard stories of difficult times. There are some here today who recall the fire in 1937, a fire that urged a rebuilding effort that was responsible for this building we are in today. Suffering which resulted in joy. God does not promise us an easy walk, God does not say there will not be suffering. However, there is joy in the work we do. Joy given by the Spirit as we do the work of the kingdom.
Known for our Faithfulness
Here at St. Andrew's we sponsor and support many groups that reach out and help individuals in the community. We host the AA, Guides, Victoria Order of Nurses. The Soup Kitchen nourishes many people every week. We are a partner with SONG a group which allows underserved children the opportunity to experience and learn about music.
"…your faith in God has become known everywhere."
We are known for these things. We involve ourselves in these missions because we believe it is the right thing to do according to the gospel. Because we believe that this is part of ushering in the kingdom of heaven. It is a part of our Christian witness. God calls us to be faithful and we can do nothing less. Our goal is to not be content with what we have already done, but always to be seeking out new ways where we can be faithful to the message of the gospel.
A Sense of Expectation
We wait with expectation for the coming of Christ. Just as the early church did, we wait for that glorious day.
"…and to wait for his Son from heaven, whom he raised from the dead – Jesus, who rescues us from the coming wrath."
Come Lord Jesus, come.
We wait for that day when our saviour is with us again. When there will be a new heaven and a new earth. When God will dry every tear and we will live in harmony with one another and with our creator. We wait with eager anticipation for that day. And as we wait we remain faithful to the call of Christ, we follow in his footsteps, we live out his teaching. Empowered by the Holy Spirit, loved by God.
This is the church that Paul wrote to and I believe that he could write that letter again today to us.
To the church of St. Andrew's, Cobourg in God the Father and the Lord Jesus Christ: Grace and peace to you.
I always thank God for all of you and continually mention you in my prayers. Amen.
Text: 1 Thessalonians 1:1-10
[jetpack_subscription_form title="Receive Updates via Email" subscribe_text="Receive updates from St. Andrew's Presbyterian Church by email. Enter your Email address in the form below and follow the instructions." subscribe_button="Subscribe"]