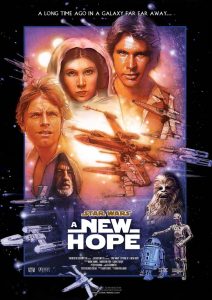 Anyone who has known me for more than five minutes can tell you that I am a fan of the Star Wars films. The struggle between the Rebels and the Empire represents the tension between good and evil. The first Star Wars film was subtitled 'A New Hope' as a new force emerged which would challenge the oppression of the Empire. Hope is a dominant theme in the film and it carries over in the sequels.
As Christians hope is dominant theme in our understanding of faith. However, for us it is not a new hope which we are searching for. Rather it is the hope which we have in Jesus Christ which informs our living. Over the past few weeks we have been examining the book of Revelation and the message that it carries. Revelation was written for seven churches in Asia Minor and it expressed the hope that is found in Christ. A hope which continues to sustain us today. In our passage this Sunday we begin to see the new creation which has been promised to us. The new creation in which we also place our hope.
Text: Revelation 21: 10; 21:22-22:5
Questions for Sunday
What are you hopeful for in your own life?
How does the vision which is revealed in Revelation make you feel?
What connections between this passage can you make with other parts of scripture?
Prayer for Sunday
Gracious and loving God, you are our hope and our salvation. Thank you for the promise of eternal life spent at your side. Allow us to continue to work towards the coming of your kingdom. That you might be glorified through our work and that all people would know of your wondrous love. In Jesus name, Amen.